St Paul's School values a holistic education. Our purpose is to prepare resilient global citizens who are innovative thinkers, with a heart for servant leadership. Our three core values are faith, learning and community.
We are interested in the development of the whole person, their character, the ability to think creatively, their values and beliefs, and their academic achievement: all these pursuits are part of what learning at St Paul's School means. We have high expectations on all our students to achieve their very best in every area of endeavour.
Last year, 35 of our students scored an ATAR of 90 or above. Five topped the state in their subject, scoring a perfect 100% in their external exams. Remarkable, considering the disruption to normality those students experienced during their senior years.
What made me proud of the 2021 cohort was their resilience. Two years disrupted by a global pandemic. They didn't give up. They took responsibility for their learning. They responded positively to every lockdown. They used the experiences to strengthen their resolve. They continued to learn, no matter what. A true testament to the character of those young people.
However, ultimately, an education worth having isn't about a number. You cannot put a number on the things that really matter in life, including a unique individual who has been created in the image of God. An education worth having is one that prepares you for a life of thriving, that helps you understand who you are and what you were made for, that opens doors for the next chapter. What I am prouder of are the choices that those graduating students are making. The pathway they have chosen to take because they are passionate about something and want to contribute to something bigger than themselves.
My congratulations to the class of 2021. You are an inspiration to all those who will come after you at St Paul's School.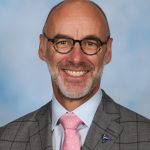 Dr Paul Browning
Headmaster