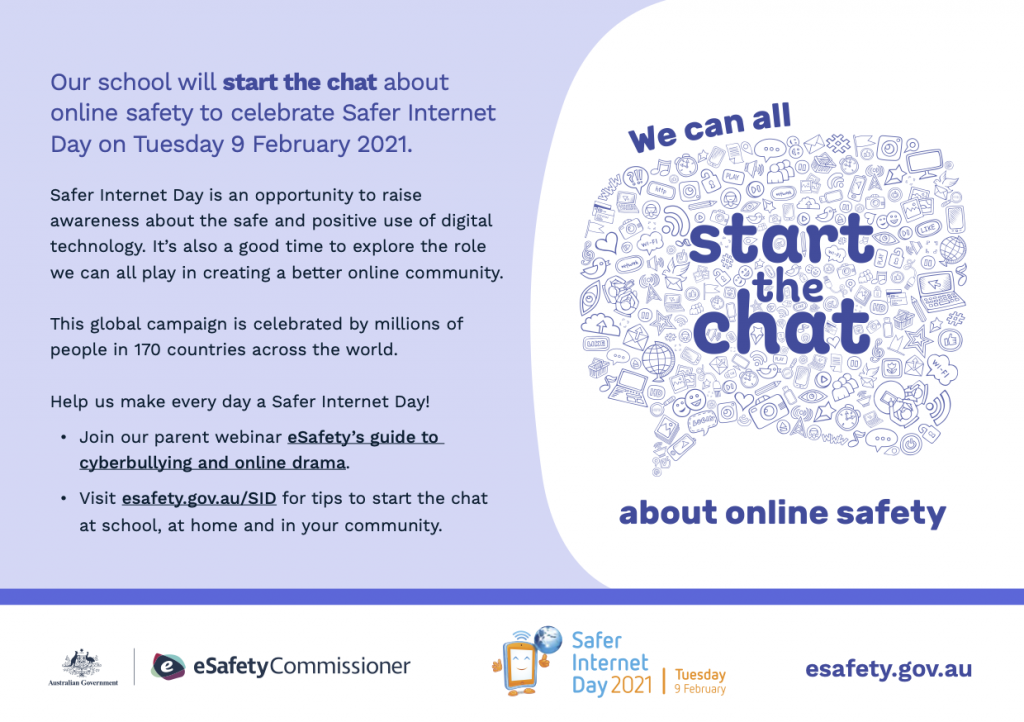 Safer Internet Day 2021
Safer Internet Day raises awareness about the positive role of digital technology and explores ways we can all contribute to creating a better, safer internet. Coordinated by the Office of the eSafety Commissioner in Australia and celebrated in over 170 countries, this year's Safer Internet Day is Tuesday, 9 February and the theme is 'Start the Chat'.
There are a number of ways that you can get involved in this year's Safer Internet day:
Free Webinar for Parents
Various activities are held in the Libraries each year to mark this day and there are many community activities, including free webinars.
This Safer Internet Day 2021 webinar will look at how parents and carers can support young people to have safe and respectful online relationships and what to do if things go wrong.
It will cover:
starting conversations with your child about their online friendships and positive ways to deal with changing relationships
understanding the rights, laws and community expectations that govern social media use
where to seek help if your child is involved in a cyberbullying incident.
The webinar will include case studies, research and targeted advice so you can support the young people in your life to have safe, enjoyable online experiences.
Dates (Australian Eastern Daylight Time):
Tuesday 9 February 7.30 to 8.30 pm
Wednesday 10 February 12.30 to 1.30 pm
Wednesday 10 February 7.30 to 8.30 pm
Monday 15 February 12.30 to 1.30 pm
Monday 22 March 12.30 to 1.30 pm
Conversation Starters
The eSafety Commissioner has recommended some conversation starters for parents and children to help begin the very important and ongoing conversations about being safe online.
To download the Conversation Starts please click here.
Message from the eSafety Commissioner, Julie Inman Grant
Julie Inman Grant Safer Internet Day:
The Safer Internet Day 2021 campaign is officially open! Educators, get ahead of preparing for Term 1 with our resources and ideas about how to #StartTheChat with your students.
To watch the message from the eSafety Commissioner, Julie Inman Grant please click here.