Jordan, along with the Deputy Premier, was here to "open" our new Innovation Precinct (even though we weren't able to). Before the event in the Walker Centre, I took Jordan for a walk through the new building. He commented, "I've opened a lot of innovation centres in schools, some named for me, but I've never seen anything like that building."
While it has been much delayed, I am now quite confident (not quite 100%!) that we can hold an "Open Building Event" on Monday 13 March 2023. Sippers will be reopened and serving free coffee for staff and parents until midday. If you would like to come and see the building, I invite you to drop in anytime between 8.00am and 12.00 midday.
The building is a showcase of the unique way of teaching we have developed at St Paul's School, Realms of Thinking. You will understand what I mean as soon as you walk into the entrance foyer. Thank you to Franz Casablanca, husband of Erin Casablanca, for telling our story in such a unique way.
The next step in our strategic journey is to change the way we report to you how your child is developing not only academically, but also the vital skills and dispositions they need to thrive when they leave School. If we say we value creativity (and character) we should be assessing and reporting on those things.
With the support of the University of Melbourne, we have found a way to measure the skills and dispositions that are Realms of Thinking that is both valid and reliable. From the second half of next year, we intend on introducing a new reporting system:  a learner profile. More about this to come.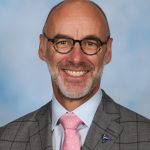 Dr Paul Browning
Headmaster