I'd love to tell you that this makes me an expert in marriage and parenting, but I'm afraid to say it just means that I've had more time to make more mistakes than most people.
Making a good marriage, and raising well-adjusted, decent, loving and responsible children, are the most important and most difficult tasks of our lives. Perhaps it is because, simultaneously, we are trying to become well-adjusted, decent, loving and responsible people ourselves! Or is that just me?
Remaining happily married, and continuing to parent effectively, are both also made more complicated because our spouse and our children continue to change. My wife is no longer the girl I married, and my children are no longer the babies that my wife gave birth to. And so, in each role (husband, father and now grandfather), I have had to continue to learn and adjust my own thinking and behaviour.
It is for that reason that I will be attending Dr Kaylene Henderson's seminar in the St Paul's Chapel next Tuesday evening. She will be speaking about "Tackling anxiety and building resilience in children aged 2-12 years". I believe it is still not too late to purchase tickets, if you would like to join me.
I also commend to you the latest Parenting Ideas Insight which is titled "How to change your parenting for the teenage years" (click here to read). This important topic is also supported by a webinar that Michael Grose will be presenting on Wednesday 31 August. Because St Paul's subscribes to Parenting Ideas, this webinar is available to you free of charge – details also available on the link above.
Consider this: when your child first comes into your life, they are utterly dependent on you, and you make all decisions for them. Yet, by the time your job as parent is over, your child needs to have become independent of you, and needs to be capable of making important decisions for themselves. How does that happen? How and when should we hand over control? I like the way that Michael Grose puts it in his Insight – "Gradually involve teens in creating rules that govern their own behaviour (but) keep challenging their choices and provide emotional support when they make poor decisions"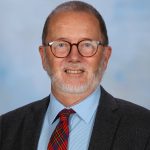 Nigel Grant
Executive Director of Faith and Community