At this point, like the wider community, we haven't brought back mask mandates at St Paul's School. We have been monitoring the current wave within the School and, thankfully, at the time of writing, the number of positive COVID-19 cases amongst students has been sitting around 20. These figures are lower than the trigger point we had set for bringing mask wearing back at St Paul's School.
The number of flu cases has been higher than the number of COVID-19 cases, but not alarmingly so.
Staff absenteeism has been a little higher than normal and our relief staff have been falling ill as well, making it a challenge to manage some classes.
If cases do rise, we may well ask students and staff to return to mask wearing. The data we collected over the past year or so showed just how effective masks are at reducing an outbreak.
In the meantime, I really encourage you to stay at home if you are unwell and recover properly. If you have flu like symptoms, please do test for COVID-19 and let us know. This information will help us keep others safe, particularly those who are more vulnerable, and minimise the impact on learning.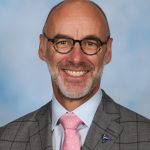 Dr Paul Browning
Headmaster