I have again been super impressed with the resilience of our young people. They can manage ambiguity and adapt so quickly to the constant changes. The secondary students have taken to wearing masks in their stride. It is a shame that TAS sport has been cancelled for the next little while, but hopefully we will be back competing soon.
We do need to be prepared for more lockdowns; we aren't out of the woods yet. If, and when they do happen, I know we are well prepared, and the students' learning won't be negatively impacted.
While there is the prospect of further lockdowns, I am greatly encouraged. I can see the light at the end of the tunnel. This time last year, we still didn't know if a COVID vaccine was possible. Now we have multiple vaccines. I keep an eye on the Australian vaccination rates each day and am greatly encouraged to see that more than 200,000 doses are being administered daily. At this rate we will reach that 'magic number' of 70% by November, if not sooner. I've had my second AstraZeneca and many of our staff are fully vaccinated. The more people vaccinated, the more we protect each other.
I am also hugely grateful to our staff. Their commitment to the students is an inspiration. While every student matters, the staff are keenly aware of the Year 12 cohort and the challenges they face. But, as for the class of 2020, the outcomes will be no different. This group of Year 12 students are perhaps even more resilient and focused. I have no doubt they will achieve great end-of-year results and go on to do great things once School is finished.
Thank you for your continued support. St Paul's School is indeed a wonderful community.
---
RAY GEISE BURSARY
Please click here for full details about this Bursary, and how to apply.  Applications close Friday 15 October 2021.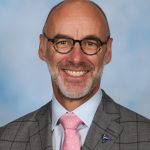 Dr Paul Browning
Headmaster