The new building, right in the heart of the School, will house:
A Possibility Hub for teaching innovation
The Centre for Innovators and Entrepreneurs
Start-up business spaces for students
New spaces for teaching IT
A presentation space for 150 people
A new Secondary School Library
Study areas for senior students
New hospitality kitchens and teaching areas
Staff professional development rooms to support Realms of Thinking
Sippers (relocated)
The building will be available for all students, from Prep to Year 12. In fact, teams of students from across the School have played a role in its design and the design of the landscaping around it.
Work will commence from the beginning of May (during Term 2) with the relocation of electrical mains around the site. Then, in June/July (during the winter break), Blocks 1 and 2 will be demolished. Work on the new building will commence sometime in Term 3, with completion in late 2022. While the site is logistically challenging, we will be working hard to ensure that everyone on site remains safe.
We are taking out a loan for the construction of the building. If you would like to be part of this project, any donation to the School's Building Fund is tax deductible.
Please contact [email protected] for more information or should you wish to make a contribution.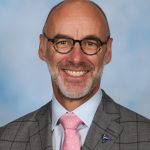 Dr Paul Browning
Headmaster