With that normality, I wish to use this newsletter article to remind the community about a few matters and to offer thanks on behalf of us all.
If your child is sick, please either call or log onto parent lounge.  Please do not contact a Teacher/Tutor/House Leader for absences less than three days.  Unless there is an exceptional reason as to why your child is away, please use Parent Lounge.  Be assured that this information is then seen by your child's Teacher in House period.
If your child is going to be late to School because of an appointment/illness etc., please log them as absent from School.  Even by telling us they will be late to School, we mark them as "absent from School" until they arrive and sign in at Tooth Reception.
If your young adult is learning to drive, please do not use the roundabout drop-off area. The driver change slows the traffic in that area causing congestion. Please either use the lower car park, or the Attunga Street car park.
In addition to the other generous support provided during the year, the School wishes to acknowledge the support provided by St Paul's School Supporters' Association in 2020 for Year 12 Leadership, Celebration of Achievement Awards, and an End of Year Function for Volunteers. The SPSSA and associated Supporter Groups do a tremendous job, adding considerable value to all of our children's educational experience – thank you.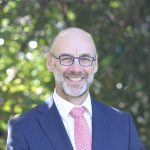 Dr Paul Browning
Headmaster