That advice was to, where possible, not discuss the post's existence as doing so promotes people's curiosity and then viewership. Instead, all staff were informed and given guidelines as to how to manage any discussions with students. We discovered a small group of students had in fact seen the video. They were debriefed, their parents were called, and appropriate support for them was put in place.
We have been carefully monitoring all students in the School.
The incident is a good reminder about the perils of social media. There is some shocking and disturbing content out there and, despite our best efforts, we cannot always protect our young people from it (unless we totally banned all technology).
The best protection we can give (aside from ensuring appropriate and sensible use of social media, high privacy settings, and monitoring screen time) is a healthy relationship with your child/ren.
What is a healthy relationship? At the outset, it is important to remember that a healthy relationship with your child/ren is built on the understanding that you are not their friend, but their parent. They look to you for protection, firm boundaries, and love. However, you do want to foster an open, honest relationship so your children are comfortable sharing with you any concerns or problems that they might be having.
Time is the best gift you can give to your children.
If your child does share with you some information about something they have seen online that is disturbing, you can:
Report it to the social media platform you have seen it on and/ or
Report it to eSafety at esafety.gov.au/report
Talk to someone who can help (a Teacher, Student Protection Officer, Online Safety Champion or School Counsellor at St Paul's School)
Please refer to the advice from the Black Dog Institute's website, Tackling the Topic of Suicide with your Child – a Guide to Having the Conversation.
Other helpful resources include:
Kids Helpline Phone Counselling Service: 1800 55 1800
Kids Helpline Webchat Counselling: https://kidshelpline.com.au/get-help/webchat-counselling
Headspace: https://headspace.org.au/emergency-assistance/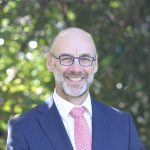 Dr Paul Browning
Headmaster