What grieves me the most is when I hear stories of broken relationships, be they broken relationships between two parents, a parent and their child, between friends, or even broken relationships between the School and families.
We are created to be in relationships and, as such, we all crave loving, stable relationships. When those relationships become damaged or broken, it is a cause of significant pain and stress.
What it would be to live in a perfect world where there was no pain and no sickness, but sadly that isn't the reality.
Christmas is a message of great hope.
The story of the Old Testament is one continual story of broken relationships, not just between people, but between people and their God. Relationships built on love is what God longs for each of us, between He and you, and between you and others.
The story of the Old Testament is a story of the broken world, the real world that we live in.But the good news is the New Testament: God's promises fulfilled in the coming of His Son Jesus. Jesus came "that we might have life and have it more abundantly" (John 10:10). He came to restore the broken relationship between us and God.
As I listen to people's stories, I often hear a great yearning for something more, something better. A deep sadness fills a void created by the loss of love and connection with other people.
But what many people don't realise is that that void will never be completely filled until we return to God and be in genuine relationship with Him. Once that relationship is restored, it is easier to restore the other broken relationships that we might experience. Hope is restored and life is lived "more abundantly."
This is the Good News of Christmas. Check it out for yourself either by reading (or re-reading)
Mark's Gospel, or by visiting your local church.
I wish you all a very blessed Christmas and look forward to seeing you in the New Year.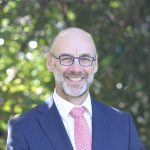 Dr Paul Browning 
Headmaster