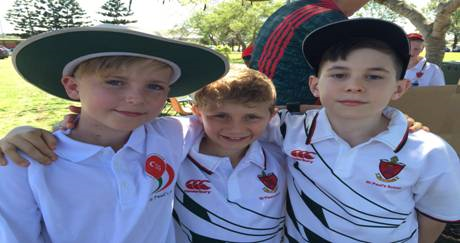 Term 4 Week 1, Supporter Groups Update
SWIMMING SUPPORTERS GROUP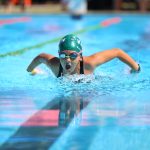 We invite swimmers to join us for St Paul's Swimming Club for Term 4 (2016) and Term 1 (2017).
The St Paul's Swimming Club is an open club and your friends are welcome to join us.
The Club focuses on participation and fun. Swimmers compete against their personal best times and points are awarded for improvement. It provides a great opportunity for your children as young as Pre-Prep to participate in school sports and feel part of the School community.
Pre-Prep and Prep swimmers should be able to swim 12.5 metres with limited assistance. Limited assistance includes a parent in the pool to assist your child for the swim or your child can hold-on to a "floatie" and complete the distance.
The 2016/2017 season starts in Term 4 on Friday 14 October 2016 @ 6:30 pm (6pm for 6:30pm start) at the St Paul's School pool (near the car park, behind the Tooth building).
Registrations are open NOW on Flexischools.
For any further information email us at: [email protected]
SwSG Committee
The St Paul's Swimming Club is administered by the Swimming Supporters Group (SwSG) and falls under the guidance of the St Paul's School Supporter's Association.
---
CRICKET SUPPORTERS GROUP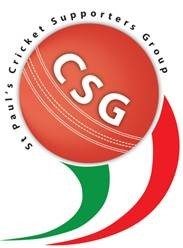 Welcome to Term 4….
On Saturday 1 October, the CSG held its Cricket Development Day to mark the start of the summer Cricket season. The day was hugely successful with over 100 players enjoying training with the Queensland Cricket coaches and specialist coach Aaron Mills.
Practice matches were played against Burpengary Brumbies Cricket Club and players had a wonderful day under good weather conditions.
The CSG also launched their new training shirts and cricket game cloth which was well received by the players.
Players and coaches also enjoyed lunch and drinks provided by CSG.
Everyone is looking forward to their first games in the BNJCA competition on Saturday 8 October.
St Pauls School has also launched a special coaching program for batting and bowling. This will be run by specialist external coaches. If you are interested, please contact Mr Tim Hughes (Head of Cricket) for application forms.
Tim's contact details are:
Mobile: 0400 799 490
Email: [email protected]
The role of Cricket Supporters Group is to engage with the school for improvement of facilities for our students and also organise events to promote Cricket@St Paul's. We would like to encourage all parents to come forth and participate / put forward ideas so we all contribute towards improving cricket @ St Paul's.
The next meeting of the CSG will take place on: Wednesday 2 November at 7.00pm in the Library.
For any enquires, email me on [email protected]
Nilesh Patel
CSG President 
---
FOOTBALL SUPPORTERS GROUP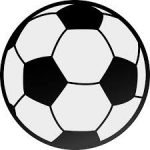 The 2016 SPS Football season wraps up with the Football Awards Dinner on Saturday 15 October at the Kedron Wavell RSL. Every player receives an awards on the night so if you haven't bought your tickets on Flexischools yet, please action before sales close Sunday 9 October. The dinner will be a great night where we will celebrate a fantastic season after some great football was played.
The next meeting of the FSG will take place on: Monday 10 October at 7:00pm in the Library.
We'd love to hear from you if you have some ideas for the Supporters Group to work on .
The meeting will cover a number of topics, but primarily finalising the details for the above dinner . Everyone is welcome to attend so come along, meet other parents and support our children in their footballing efforts!
If you have any queries please direct them to [email protected]
Looking forward to seeing you at the meeting!
Looking forward to seeing you at the meeting!
Peter Deane
FSG President
---
HOCKEY SUPPORTERS GROUP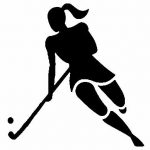 A reminder that the JTAS hockey development day is Tuesday 8 November at 3.30 on the field behind the DT building. Sign on has begun on Flexischools.
Notice of Annual General Meeting to be held on Tuesday 1 November 2016 at 6.00pm.
Notice is hereby given that the St Paul's School (Bald Hills) Touch Football Supporter Group will hold its Annual General Meeting on Tuesday 1 November at 6.00pm at St Paul's School Bald Hills, in the Library. All parents and supporters of current and past St Paul's students are welcome to attend this meeting and are eligible to both nominate for Committee positions and vote on the election of these officers.
Hockey SG AGM Nomination Form 2016.