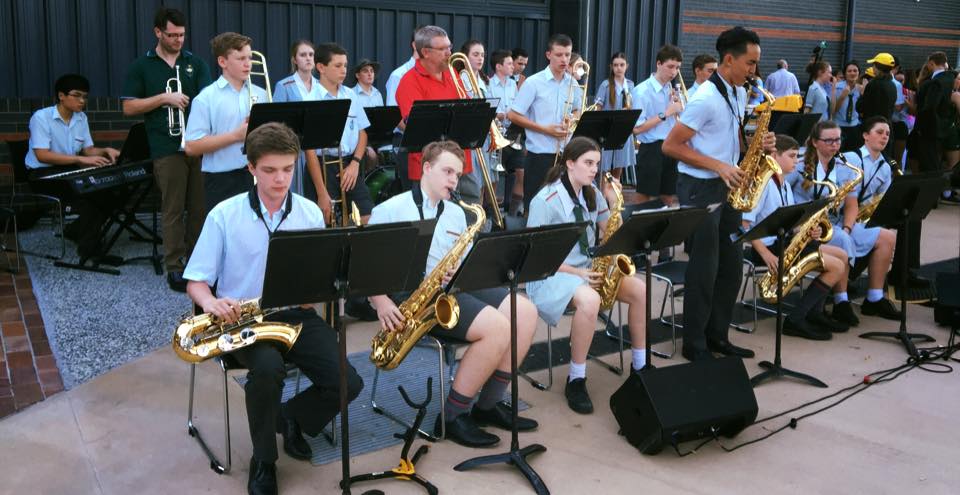 Term 1, Week 3 Music Update
Our Big Band had their first performance on Friday evening when they entertained the crowds at our House Warming event. They're sounding great already, so if this is a sign of things to come the 2017 Big Band should be one of our best yet.
At the end of this week it will be 43 days until Wind Ensemble leave for Hawaii for the Pacific Basin Music Festival. During the 11-day tour, students will be involved in workshops with renowned professional directors, take part in concerts featuring students from all around the world and see the sights of Honolulu. They will also be competing against international ensembles and perform in an adjudicated concert. It should be an incredible musical and cultural experience for our musicians.
Wind Ensemble and Concert Band students will be going on Music Camp on Saturday the 25th of February at Brookfield. This is an opportunity for the students to hit the ground running for the year and be involved in intensive rehearsals. Of course, there will be some time to let their hair down and get to know the other students in the Music program… and for Mr Allen and Mr Cotgreave to once again battle it out for tennis supremacy on the courts…
Any students from Years 2-12 who are interested in singing are most welcome to join one of St Paul's choirs. It's a great way to make new friends, and work on improving your singing in a fun environment. Our choirs are;
Red Shirt Choir (Years 2-3)
Junior School Choir (Years 4-6)
Middle School Choir (Years 7-9)
Senior School Choir (Years 10-12)
Please contact Mrs Green via email ([email protected]) or visit the Music Centre for more details. We hope to see you there!
Last year our Junior School Choir were fortunate enough to take part in the recording of a beautiful song written by one of our vocal teachers, Miss Elly Hoyt. 'Sacred' is a moving composition, inspired by Elly's feelings about the destruction of the Lapoinya Forest in Tasmania where she grew up. This song has been endorsed by environmental activist and former leader of The Greens party, Bob Brown, and was released this week to much acclaim. The piece also features Mrs Kellee Green on piano and our cello teacher, Miss Emma Hales, on cello, and was recorded in the St Paul's Music Studio by our own Mr David Cotgreave. You can watch Sacred on YouTube here.
Don't forget to like us on Facebook (St Paul's Music) and check out our Music website for details of rehearsals and upcoming events: www.stpaulsmusic.com.au