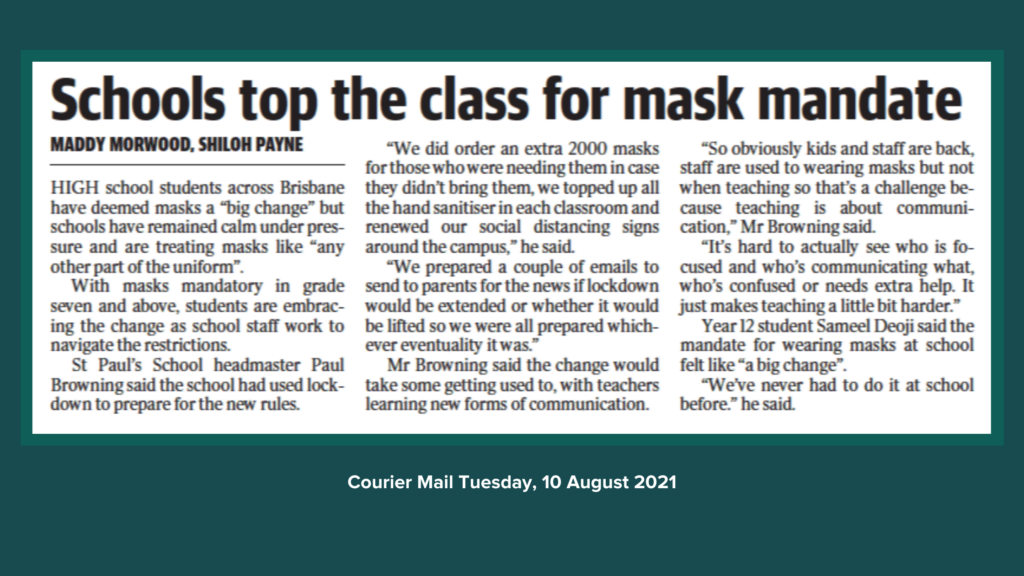 St Paul's School in the Courier Mail – Masks for students
Our Headmaster, Dr Paul Browning and our School Captain, Sameel Deoji are featured in today's Courier Mail, in an article about the introduction of face masks for students in Years 7-12. Here's what they had to say:
"We prepared a couple of emails to send to parents for the news if lockdown would be extended or whether it would be lifted so we were all prepared which-ever eventuality it was." – Dr Browning

"So obviously kids and staff are back, staff are used to wearing masks but not when teaching so that's a challenge because teaching is about communication," – Dr Browning

"Wearing masks at school felt like "A big change, we've never had to do it at School before." – Sameel Deoji
Please click on the image below to enlarge.

---
Current regulations and face masks for students
All staff and students from Years 7 to 12 are required to wear a mask at all times except when eating or drinking. We have purchased an additional 2000 masks for students who may forget to bring one.
An exemption may be granted to anyone who has a medical condition or disability that may be made worse by wearing a mask, including problems with their breathing, a serious skin condition on their face, a mental health condition or experienced trauma. St Paul's School students may apply for an 'exemption card' from their House Leader.
---
Will your child be ready for the world of the future? Find out what an education worth having looks like by learning more about St Paul's today.