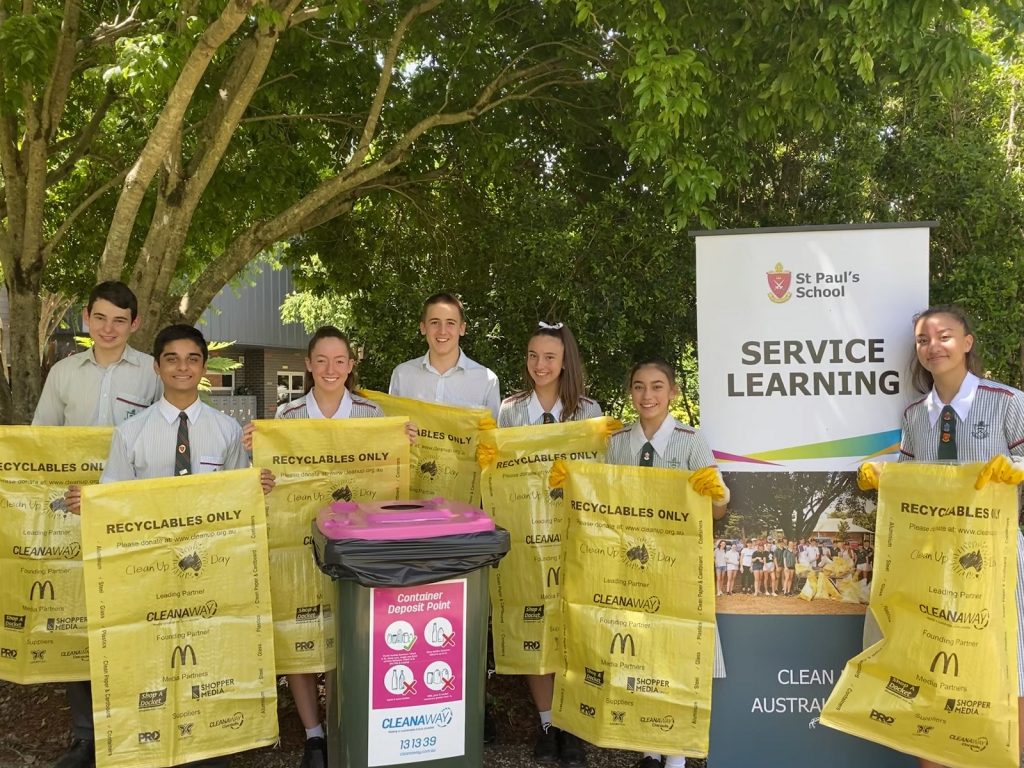 Service Learning Update | Clean Up Australia Day
Service Learning at St Paul's focuses on two specific areas: Social Justice and Environmental Stewardship. The 2019 Service Learning Environmental program got underway on Friday the 1 March with our Clean Up St Paul's Day, and was followed by Clean Up Australia Day on Sunday 3 March. This program has run for the past two years and it has been very pleasing to see steady growth in terms of student participation and the willingness of a broad range of students. Their involvement is extremely valuable to this community project!
Both events saw student participation grow by over 50% since last year. On Friday we had 57 students out and about the grounds collecting 15 bags of rubbish. The event at Pine Rivers Park on Sunday morning saw 37 intrepid representatives of the school brave a fairly wet start to the day to collect over 20 bags of rubbish from the parklands that adjoin the School.  Pine Rivers Park is a central hub for our local community, hosting major events and being a meeting place for families and community organizations. Our students playing a role in keeping it clean and free of unsightly litter, is an important way for St Paul's to show our community spirit and look after our local environment.
Pleasingly, this year our anti-litter contingent was made up of representatives from all sectors of our community: family groups, past students, International students and students from across all year levels of the Secondary School. Taja House was once again well represented as this event is traditionally this House's Service project.
This year our Service Team will once again be promoting the sale of re-usable coffee cups through the Retail Shop to fund the Koala Corridor which is taking shape at the northern end of the School grounds. The Koala Corridor will continue to grow as each term students will be involved in tree-planting days. Currently we have approximately 300 trees in the ground and the team will look to bring this up to over 1000 by the end of the year. Cutting the School's waste and increasing our recycling are also projects that the Service Team are planning currently.
It is looking like a busy and highly productive year ahead.
Mr Cameron Howes
Head of Experiential Learning Development