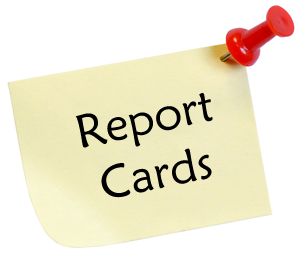 SCHOOL REPORTS
I hope that you found your child/ren's reports informative. In my experience, when reading the report some people will go straight to the grade while others will focus more closely on the comments.
To attain the best picture of your child's progress, it is important to gather information from a variety of sources: their grades, the comments, an interview with the teacher, and a reflection on the part of the student as to how they think they are going. It is important to remember that no-one's value is defined purely by a mark, there is much more to the holistic education of a young person than a grade.
What I really encourage young people to do is to reflect on their learning and the feedback they are given. Do they agree with the comments? Was the mark fair? It is often helpful to speak with the teacher to gain more specific feedback and to ask how they can improve further.
Finally, everyone should be setting goals. I believe that everyone is capable of far more than they may think. We do not have a fixed intelligence or ability; we can each grow and improve. Setting short-term and long-term goals helps to stretch our abilities and leads to growth; particularly if we listen carefully to the feedback and accept the support we are given.
If you took the opportunity to meet with your child/ren's teachers on Monday, I hope that it was helpful for you. For those parents who have a child in Years 7-12, I appreciate that the time was very limited, but it is difficult to imagine how else we can organise those opportunities. Some teachers had up to 55 interviews.
We often do not appreciate the load of a teacher – it is a huge job. Actually, it is not a job – it is a vocation. Teachers become teachers because they want to make a difference to the lives of others. At St Paul's School, we are incredibly blessed to have a wonderful team of committed teachers and a hard-working support staff behind them. As the students set new goals for the coming semester, I would like to take an opportunity to acknowledge the hard work and commitment of all of our staff – thank you.
---
APPLICATIONS FOR RAY GEISE BURSARY – CURRENT STUDENTS ONLY
Bursary Details:
The Ray Geise Bursary for Service will be offered to one current St Paul's School student, who will be in Year 7, 8, 9, 10 or 11 in 2020.
This Bursary is to the total value of $1,000 (as a reduction in School fees) for 2020 only.
Criteria:
Students should submit a covering letter detailing their performance in pursing the Aims and Goals of the School and must show evidence of consistently caring for others and helping them to live worthwhile and meaningful lives; students must have pride in their School and demonstrate this in their dealings with their peers and indeed the whole School community.
In addition to the covering letter, students should submit a 1000 word essay on "Building a Christian Caring Community in the 21st Century."
In awarding the Ray Geise Bursary, particular attention will be paid to the performance of the applicants in pursuing the Aims and Goals of the School, and to any financial need which exists in the family.
Applications:
All Bursary applications and offers are to be treated as private and confidential and are not for public discussion or announcement.  Applicants should submit:
A Bursary Application Form
A Covering Letter
An Essay
A separate application should be submitted for each child within a family.
Bursary Application Forms are available from the Headmaster's Executive Assistant, Ms Sam Beeney, via email request:  [email protected]
Bursary applications (including the completed Application Form, Covering Letter and Essay) should be submitted in a sealed confidential envelope by Friday 18 October 2019 (the end of the second week of Term 4) to:  Dr Paul Browning, Headmaster, St Paul's School, 34 Strathpine Road, BALD HILLS  QLD  4036.