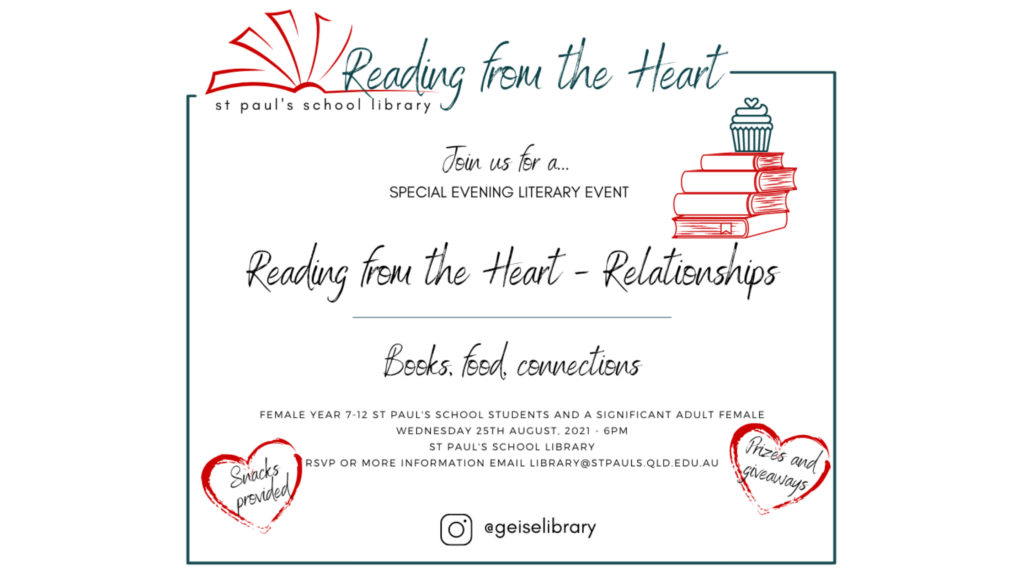 Reading From the Heart – Relationships
Your invitation to a special event
To celebrate Book Week 2021, the St Paul's School Secondary Library is hosting a special literary event, just the first of many for our St Paul's students and families. Future events will include a men and mentors event, and other possibilities such as a books to movies night, Reading in PJs, and Mystery Reads and Escape Rooms. 
Reading From the Heart – Relationships, invites female St Paul's School students in Years 7-12 and a significant female adult in their lives to join us during Book Week, on Wednesday, 25 August, from 6.00pm in the Secondary School Library for a night of books, food and connection. 
Students and their significant female adult will be invited to select a book of their choice from the Relationship genre. These fiction books range from the heartbreaking (think The Fault in Our Stars) to the delightful (think Lennie's Book of Everything), may be moving, funny or just an easy relaxing read. The student and adult will both read this book. Then, on the night of the 25th we will gather as a group to enjoy some pizza, share the books we have read, discuss the bits we loved, those we didn't like as much and generally chat about the chance to connect. Spaces are limited, so book now. 
Details
When: Wednesday, 25 August, 2021 from 6.00pm until 8.00pm. If you would like to choose a book from the St Paul's Secondary Library, please visit us sometime in Week 2 or 3 to collect your book. 
What: Pizza, books and conversation. 
Where: St Paul's School Secondary Library. 
Cost: Free for all members of the St Paul's School community. 
RSVP: : Please book your free ticket by Friday, 13 August by emailing [email protected]. Please include your name and the name of the attending significant female adult, an email contact, as well as any dietary requirements.