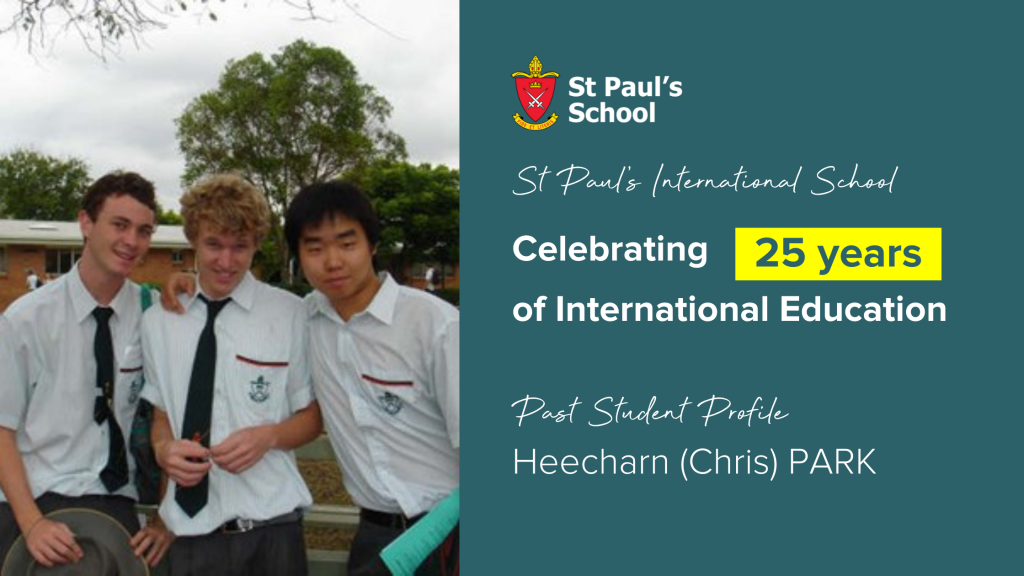 Past Student Profile: Heecham (Chris) Park
2003 was a very big year in the life of Heecharn (Chris) PARK. In fact, it was a year marked by upheaval, adaptation and a number of firsts.  His move to live and study at St Paul's School involved moving country, adapting to a new way of life within a different culture, learning to function in an additional language both socially and in his learning, settling into a new school,  fitting into a new family and a different  'home' dynamic. He also had to 'hit the road running' regarding looking after himself independently, not to mention coping with changes in climate, food and inevitable feelings of isolation.  The learning curve was steep for a young lad from South Korea but he was determined to meet this adventure head on.  And that is exactly what Chris has done successfully now for nearly 20 years!
My mother wanted me to earn English for my future and be exposed to a wider global world.
| | |
| --- | --- |
| Then: 2006 –Chris and mates on Yr 12 Graduation Day! | Now: Chris Park, Architect |
| | |
As Chris now reflects:
Without your parents during the teen period, it's hard and you are exposed to a lot of uncertainty and worry and possibly dangerous things. You just have to live and accept good and pain without knowing you are stressed. It's up to you because you don't have the same care you had back in your country.
Chris worked hard on his English in St Paul's International School from term 1 2003 and transferred into the main school in term 4 that year. He says:
All teachers at SPIS were lovely and friendly.
However, he goes on to admit:
I remember going to get fish and chips, sneaking out during lunch time. They didn't know! Lucky we didn't get caught!
Chris joined Year 9 for the final term of 2003. That was more like an extended orientation period, experiencing first-hand what it was really like to be in main school classes. He was getting ready for the senior years ahead.
The next three years are now a bit of a blur of study for Chris. One standout memory is of a specific English lesson:
I had to write a story in English, I can't remember the teacher's name but she was fabulous at teaching.  I had to act in front of everyone and I did a real good job with clapping at the end and my teacher loved it.
His memories of sport are not as positive.  He recalls:
I remember I threw up during a swimming carnival because I accidently started too early and then went too fast for 100m free style.
Chris graduated from year 12 in 2006 and was accepted into the University of Queensland.  He says:
I have Master of Architecture degree and have worked in numerous architect firms. I am now involved in workplace design and have a BIM management role. I also have started my own design company focusing on residential projects.
For general interest you can contact Chris at Building & furniture design company. Chris:p Soul Design www.chrispsoul.com.au
Chris is also now married and still lives and works in Brisbane:
I still keep in touch with most of international students that I went through SPIS with. All of us international students had the same experiences even if they were from South Korea or Japan or China or other countries.  We still share stories together over Facebook.