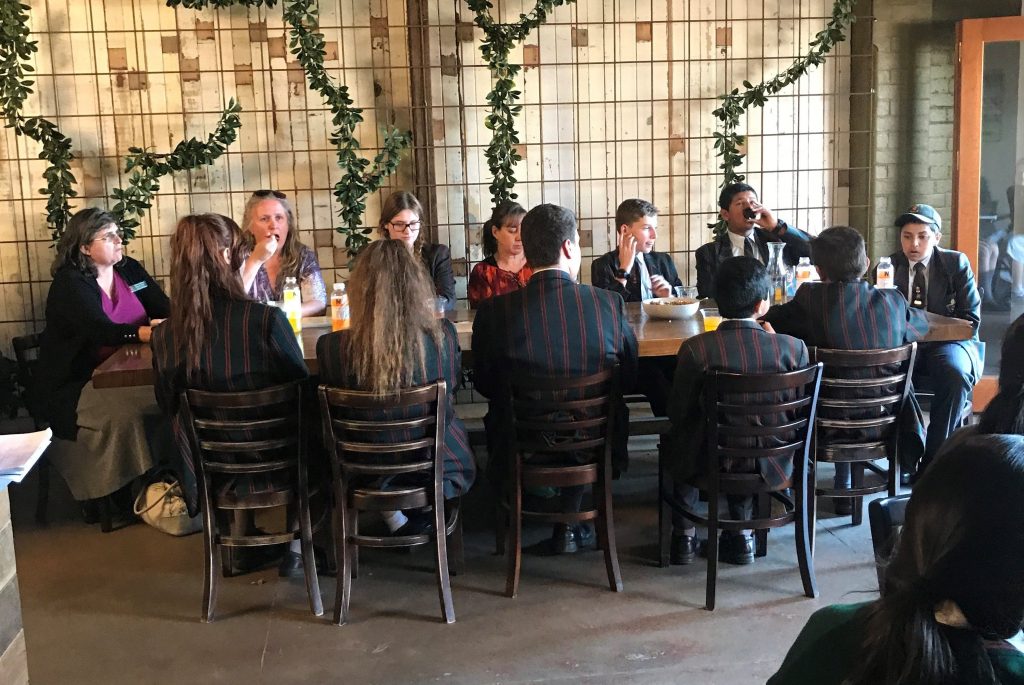 Paleo Heroes
On Thursday 31 August our 20 members of the 2017 Entrepreneurs Club visited the Paleo Hero production facility at Eagle Farm. The 17 students, 1 parent, 1 staff member, and 1 teacher had the amazing opportunity to listen to two of Brisbane's respected Health and Food Entrepreneurs, Mark Rockley from Paleo Hero and Shannon Cooper, My Food Religion.
The students heard about their humble beginnings, starting their businesses from home kitchens and the challenges of expansion. We heard about identifying target markets, being true to your business vision and tips to marketing and connecting with customers. The students completed reflection blogs after their experience, which demonstrated how much their gained from the experience. Big thanks to Mark and Shannon.
Below are three of the best reflection blog from Helen (Staff Member), Rae (Year 12 Students), and Ishani (Year 7 Student).
Rae Eastern writes:
On Thursday the 31st of August the Entrepreneurs Club went to the Paleo Hero Facility and the Precinct Café. The founders of Paleo Hero Mark Rockley and Shannon Cooper shared their start-up experience with us. The club toured the facility and sampled some the products, the chocolate granola a personal favourite.
About the business:
The business partners found a niche in the Australian market as there were limited snack foods available for those following the Paleo lifestyle.
Paleo Hero began in a family kitchen four years ago, producing 10 kilograms of granola per week. The production eventually outgrew the family kitchen and finding a new premises and new mass cooking techniques was a trial and error process. Today, the Paleo Hero facility is located beside the Precinct Café, inside the Eagle Farm Racecourse precinct, with another franchise in the USA.
The excursion was truly an insightful experience. Mark and Shannon discussed the importance of networking and marketing through social media, affiliate programs and communities such as CrossFit. Many of us were new to the concept of affiliate programs.
I learnt that an important tip for start-ups is to factor in all costs from the very beginning – even those we would often perceive as free such as putting stickers on packaging.
It was great to have an excursion that reinforced the Entrepreneurs Club sessions run by coaches Dr Jones and Mrs Smith. We left inspired and encouraged after seeing a business that was thriving.
Ishani Chauhan writes:
By going to paleo hero the founders Shannon Cooper and Mark Rockley shared their story of how and why they started up their business. Their business started up in a family kitchen and kept on growing in the past 5 years. They had to increase the amount of products they were making which was 10 kilograms of granola per week. Today their business is beside the Precinct café with so many customers buying their products and also with another franchise in the US with consumers buying even more of their products. From my personal experience my dad is diabetic and has to control blood sugar levels. As a family we are constantly trying to experiment with low-gi foods and healthier sugar-free options. This excursion to paleo hero made me surprised in what types of products there were and how they were friendly and tasty to people that don't have: gluten, sugar, dairy and people that are vegan. My favourite was the muesli. One thing I can certainly feel confident in knowing after my visit, to paleo hero and listening to Mark and Shannon share their experience, is that anything out of my kitchen or my home can very easily become the next big thing with the correct attitude and determination. The fact that Shannon has taken the paleo/ healthy revolution to the general public via group classes, further shows that your business idea is not only limited to your factory, office or home. Success can come with the correct marketing, attitude and strategy.
What made this trip even more special was on Friday morning the day after the excursion I didn't realise that I've been eating the paleo hero chocolate granola for breakfast for the last 2 months. SEE HEALTHY CAN BE DELICIOUS!!!!!!!!!!!!
Helen Brand writes:
On Thursday the 31st of August the Entrepreneurs Club travelled to the Paleo Hero Facility where we were treated to an insightful afternoon.  Paleo Hero began in a home kitchen five years ago when owner Mark Rockley identified a hole in the market for Paleo snack foods.  In those five years Paleo Hero has grown to become Australia's largest supplier of Paleo Products and is still expanding their product range. They now also have a company producing their product in the USA.
The visit taught me that if you want to succeed as an Entrepreneur you need to find a niche in the market and make your product unique/better than anything else on the market.   Although your product may have a price that is prohibitive, if you have the right product and the market you can make it successful.
Before the visit I had a look at the website and Paleo Hero's products.  I was amazed at the cost of the product and wondered where the market would be for these expensive bags of muesli.  After our visit and sampling the product I was converted.  Not only was this the best muesli I had ever tasted I can honestly say that I am more than happy to pay the price.
From this experience I have learnt to be successful you need to start small and grow.  Factor every cost into the product and do not expand beyond your capabilities.  You need to network and keep watching the market and develop along with it.  Keep it simple and manageable.  Do not over complicate the product and use social media to your full advantage.