It's a question worth pondering.  In year's gone by, the traditional career path was to go to school and either go to university then find a job or go straight into the workforce pursuing a trade (again, working for someone else's company).
This trend appears to be shifting, and not in a small way.
McCrindle Research regularly conducts "market research" on a good deal of areas, including education. Just this week they released a report titled, "Equipping students to thrive in the new world of work." By asking more than 1000 secondary and tertiary students for their perspectives they were able to provide some insights on the current context of Australian education.
For those interested, you can download the infographic of the highlights here: Education Future – Research and trends for the education sector
There were many highlights from the data. The standout data for me related to young people's career aspirations and their passion for social issues.
When thinking about careers, 11% of young people want to be an entrepreneur, 27% mainly an entrepreneur but also working as an employee, and 48% mainly an employee but working in something they have started on the side. This means that 86% of young people anticipate working in something they have started, either solely or as a side hustle. Young people want to be an entrepreneur, either full time or part time.
This being the case, why is it that young people become entrepreneurs in spite of their education and not because of it?
Schools (and governments) urgently need to rethink how young people are educated because the system is not meeting their needs.
All of this reemphasises that key question which keeps us up at night: What is the purpose of education?
Or, in the words we often use at St Paul's School, what is an education worth having?
An education is one of the most valuable gifts a person can receive. Most young people in Australia, and indeed much of the western world, are incredibly privileged. There are so many young people in the world who would love to have access to an education, but sadly are unable.
We believe at St Paul's School that an education worth having is a holistic one; one that prepares resilient global citizens, who are innovative thinkers, with a heart for servant leadership. We believe that an education worth having sets up a person to live a life of purpose, a life of thriving; an education that sets them up to make a positive difference to the communities where they will eventually live and work.
Thankfully, St Paul's School is committed to ensuring young people have the skills and dispositions to think like an entrepreneur, or even be an entrepreneur with our Realms of Thinking and programs run through the Centre for Innovators and Entrepreneurs..
I was particularly encouraged to read that the current generation of young people, "are not just a digitally savvy generation, but a generation that cares about social good, more so than their older counterparts"; that is, they have a heart for servant leadership. Young people are passionate about ending racism, reducing climate change, social equality and alleviating poverty, far more so than my generation, or generations before me.
Equipped with an education worth having, one that prepares a young person with the strength of character, the skills and dispositions to think like an entrepreneur, and the heart to make a difference, I have tremendous hope for the future.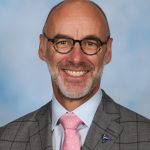 Paul Browning
Headmaster