In a world already reeling from the human and economic consequences of the COVID-19 pandemic, the unlawful killing of a black man in Minneapolis last week has, like a fuse, ignited a conflagration of rioting, looting and further violence, fuelled by a volatile mix of racism, poverty and injustice.
How do we, as teachers and parents, help our students to understand these images from around the world? And, perhaps more importantly, how do we help them to deal with their own strong feelings of anger, fear and helplessness in the face of seemingly overwhelming forces?
I've spoken to students in the secondary school as part of the last two online Assemblies, about the importance of knowing how to deal with strong feelings. I used the example of my 17-month-old grandson, Ruben, who had a melt-down at the dinner table one night recently. He was overcome by a mix of hunger and tiredness, and he just didn't have the words he needed to process and express his strong feelings. While your children might be past the tantrum-stage (at least, I hope they are!), they may well still need some help to understand their feelings. So, I pointed out to the students that it is perfectly natural for them to be feeling anxious, angry, disappointed and/or afraid, in a world that seems a bit out of control at the moment. We have provided additional counselling support, so that everyone who needs to can seek some assistance.
Vaclav Havel knew all about living in a world that seems out of control. Born into a wealthy family in pre-war Czechoslovakia, he grew up under Communist rule but became a brilliant and hugely-influential playwright, author and dissident. After the Velvet Revolution saw the fall of communism in Czechoslovakia in 1989, Havel became the nation's President. Considered to be one of the greatest thinkers of the twentieth century, Havel left us with many great quotes, including this one –
The salvation of this human world lies nowhere else than in the human heart, in the human power to reflect, in human meekness and human responsibility.
I've been thinking a lot about meekness recently – especially in the context of the RITE Journey, a program in which we speak with the Year 9 cohort about the transition from childhood to adulthood. In particular, I have been thinking about how we describe masculinity to our boys, when their screens are filled with words and pictures of less-than-ideal role-models (including the President of the United States). What message should we give our boys, when the world seems to be telling them that you have to dominate, to fight and to abuse your way to the top?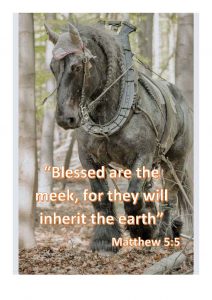 I want to suggest the answer is that we teach (and show) them the true meaning of the word 'meekness'. It's a much-misunderstood word, often confused with weakness. However, the word meek from the original Greek language was used to describe reining in a stallion. A horse that has been suitably 'gentled' (not 'broken') has learned to submit to authority. That is meekness. It is power under control.
Meekness doesn't actually appear in our school Character Framework, but there are elements of meekness in many of the virtues that are included – Patience, Diligence, Humility, Faithfulness, Courage and, of course, Self-control. I think that is (in part, at least) what Jesus was talking about when, in the Sermon on the Mount, he said "The meek shall inherit the earth".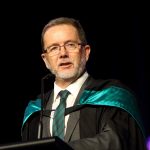 Mr Nigel Grant
Executive Director of Faith & Community