Over the course of 2019, we have enjoyed many successes in the Extra-Curricular realm, some of which were highlighted by the Acting Chair of the St Paul's School Council in her address: a two-times world champion, at least two students who represented Queensland in their chosen sport, an Australian silver medallist in the 800m, two students who sang at Villers-Bretonneux for Anzac Day, and a Year 4 student who performed on "Australia's Got Talent" (to mention but just a few).
A word that was used by a number of the speakers on the night was "resilience".
In his address, Nigel Grant shared the story of the parable of the talents. That story has many powerful lessons. One of those lessons is that we aren't all created equal, we are all individuals. Some will excel on the sporting field or on the stage, others won't. And that is okay. Regardless of the talents we have been given, we each have a responsibility to use those talents. And when we don't finish first, or even perhaps finish last, the true test of our character is our willingness not to give up, but to use every experience to grow.
This message was reflected in a story told by our guest speaker, Ashleigh Gentle. She arrived in Rio to compete in the 2016 Olympics, but her bike and gear didn't. They finally arrived five days later, just a day before she was to race, but it was destroyed, evidently run over by a truck. Many of us would have given up at that point, the stress being just too much. But she didn't. Ashleigh went on to race. She couldn't give up; if she had, she would have felt that she would have let down all those who had sacrificed so much to get her to the games, including her parents.
Ashleigh didn't do very well that day. Eight years of hard work didn't even result in a PB. But she did acknowledge that that tough, stressful, and ultimately extremely disappointing experience, taught her far more than she would have learnt if everything ran smoothly. As a result, she has grown her resilience and is preparing to compete at Tokyo next year.
Life can be hard. And that is okay. We might not ever win a prize, and that is okay too. What ultimately is more important, is our character and our resilience. Our courage to face disappointment and use it as an opportunity to grow.
My congratulations to all the students who were acknowledged on Wednesday, but also to all those students who have a go and never give up. You are remarkable too.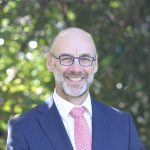 Dr Paul Browning 
Headmaster