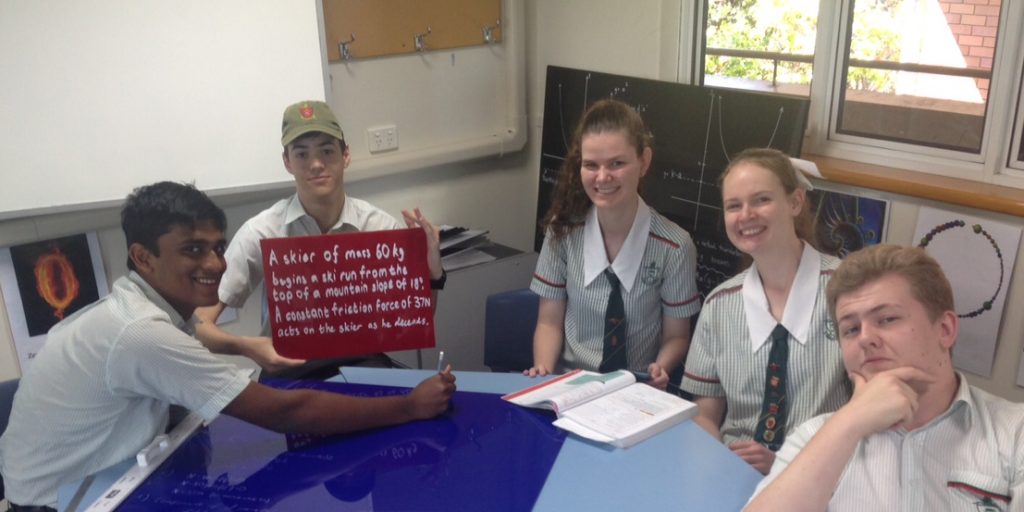 Inquiry learning – making sense of Kinematics
At St Paul's, our Learning Realms work across the entire curriculum.  The latest example involves our Year 12 Maths C class where students have been using Inquiry Learning to work through real life problems involving Newton's Second Law of Motion.
Inquiry learning, in this instance, has focused on understanding the problem at hand, then working out ways to actually explain that to others so it makes sense.
Students have used force diagrams to enhance their knowledge of Kinematics – the study of motion (displacement, velocity and acceleration). They are trying to understand and then explain to the rest of the class their selected application of these ideas.
According to Year 12 student, Candice Pettegree: "We really enjoyed bringing our own ideas and individual skills to this problem and working together as a team to solve and ultimately explain the maths to the rest of the class. Struggling through this together was a great way to realise how maths is actually relevant in so many real world scenarios."
Classmate Rachel Davin said, "It was interesting to hear how other people perceived and interpreted parts of the problem. It actually helped us all understand this better."
Alex Denton also enjoyed the process, saying: "The inquiry process used in 12 Maths C is fundamental to our learning in the classroom as well as social interactions with my fellow students.  It has really helped me grow a love for learning."