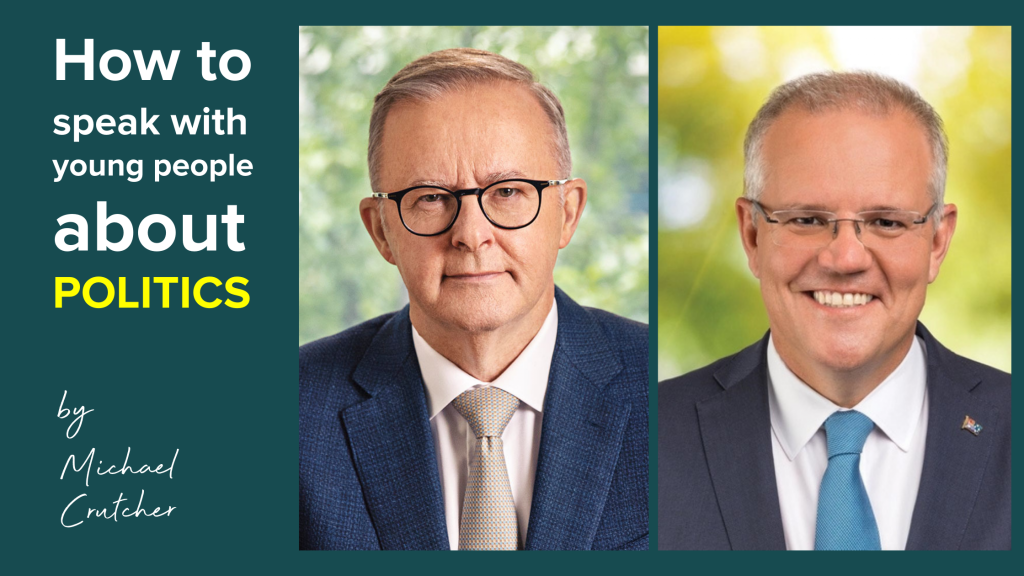 How do you speak with young people about politics?
Ahead of this weekend's federal election, politics has been in most places we look – on television advertisements, billboards and across social media. Teenagers may be viewing election material as it bobs up on social media platforms.
So how do you discuss this election and help to educate the next generation of voters?
Michael Crutcher was the editor of The Courier-Mail from 2010-2013, covering the reign of two Prime Ministers. He was The Courier-Mail's Chief of Staff in the 2007 election campaign. Michael provides his thoughts on elections and young people:
Consider taking the time to explain how the Liberal, National and Labor parties were created for people and groups with particular interests. More recently, the likes of the Greens and other minor parties have emerged to target other supporter groups.
"Young people often notice more about the personalities than the parties because the images of leaders are so prominent during campaigns. It can seem a popularity contest rather between 'ScoMo' and 'Albo' rather than a contest of beliefs and ideas. But we know our young people are well informed on the issues that the world is facing today. Sometimes there doesn't seem much difference in what the major parties are proposing but it's handy for children to understand why parties were originally formed and how their presence provides voters with a choice to elect people or parties that claim to prioritise their interests. Young Australians can take the time to work out who they think will best represent their concerns and express that when their chance comes to vote for the first time."
Do your own investigation, even if the parties tell you something is true on social media
"The role of social media has never been more prominent in an election. It was only a decade ago when the major parties were dedicating 10 per cent of their advertising budgets to social media. Now they're dedicating more than half of their budget to capturing people's attention via digital means, especially young Australians voting for the first time. That has led to a new wave of social media advertising that has to be short and sharp to fit the format. And that means there is no time for comprehensive discussion on matters. Some political parties summarise their claims and sound convincing but they may not be telling the full story. Young people have plenty of resources at their disposal now to check the claims that politicians make. It's worth the effort if young people are engaged."
Elections can seem boring but they're the reason we live in such a good country – and election night is reality TV on show.
"Watching coverage of election night may not sound like the most exciting way for a young person to spend their Saturday night. But it showcases democracy in action as the will of the people is unveiled. There are some other countries that don't give their citizens the chance to vote for how their nation is run. The TV coverage won't get too interesting until at least 7pm, and maybe later depending on the flow of votes, but young people can see how each of the seats fall. Some politicians will be thrilled, others devastated and some plain stunned. Their reactions make for interesting viewing and show the personal side to how our country is run. In the end, political parties are made up of people with all the usual emotions. This election will start, stall and end some careers. Whatever happens in this election, the direction of our country will shift in the next three years."
By Michael Crutcher
Are you interested in learning more about St Paul's School?  Check out some of the links below to see why we believe it's the right school for your child and your family.