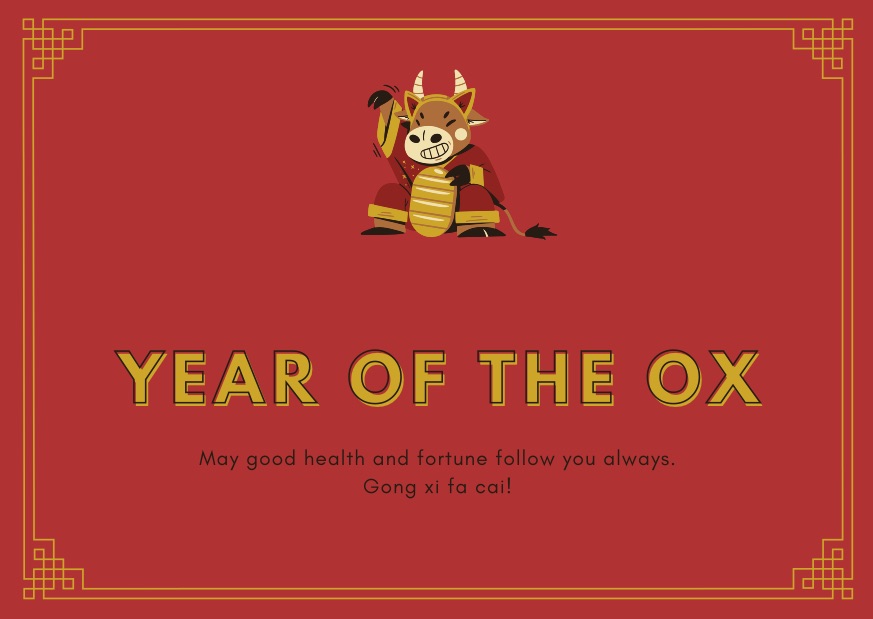 Happy Chinese New Year
恭 (gōng)喜 (xǐ)发 (fā)财 meaning "Wishing you to be p(cái)

新 (xīn)年 (nián)快 (kuài)乐  meaning "Happy New Year"(lè)

These are the two common sayings that people say to each other when they meet in the New Year.
This Friday 12 February marks the start of Lunar New Year celebrations for many of our St Paul's families. Also called Spring Festival, Luna New Year is typically celebrated in China and other Asian countries and begins with the first new moon of the lunar calendar and ends on the first full moon of the lunar calendar, 15 days later. Traditionally, New Year's eve and New Year's day are reserved for family celebrations, including religious ceremonies honouring ancestors. Also on New Year's day, family members receive red envelopes (lai see) containing small amounts of money. Dances and fireworks are prevalent throughout the holidays, culminating in the Lantern Festival, which is celebrated on the last day of the New Year's celebrations.
To celebrate the Lunar New Year, our International Committee has organised some Tutor group activities, including a paper-cutting contest (best display wins a prize!) and we will have other activities running over the next week. We would like to acknowledge this special time of year, especially for our students who have not been able to return home to their families for over 12 months now.
Wishing all of our families best wishes for the year ahead – Gong xi fa cai!
Below are some interesting facts about the Chinese New Year. If you are interested, read on.
Chinese New Year
Chinese New Year, also known as Lunar New Year or Spring Festival, is China's most important festival. It is also the most important celebration for families and a week of an official public holiday.
Chinese New Year 2021 falls on Friday, Feb 12, 2021, beginning a Year of the Ox.
The date of the Chinese New Year is determined by the lunar calendar: the holiday falls on the second new moon after the winter solstice on December 21. Thus, each time the New Year in China falls on different dates of the usual Gregorian calendar, between January 21 and February 20.
Chinese New Year 2021 (Year of the Ox)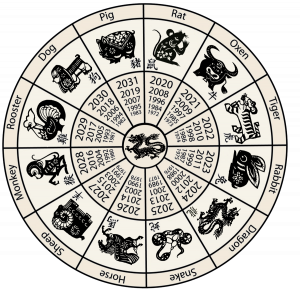 The Chinese zodiac gives each year an animal sign.
In popular Chinese astrology, Chinese New Year is important… For Chinese people, years begin at Chinese New Year, rather than January 1!
Red Envelopes
Like at Christmas in other countries, people exchange gifts during the Spring Festival. In rural areas and for older people the New Year gift giving tradition is still strong, but increasingly younger people prefer just to receive red envelopes (by hand or electronically).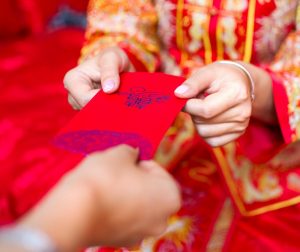 At New Year red envelopes are customary in China.
The most common New Year gifts are red envelopes. Red envelopes have money in and are believed to bring good luck because they are red. They are given to children and retirees. Customarily only employers give red envelopes to working adults.
Chinese New Year Decorations — Lucky Red Items
Every street, building, and the house where Spring Festival is celebrated is decorated with red. Red is the main colour for the festival, as red is believed to be an auspicious colour.
Red Chinese lanterns hang in streets; red couplets are pasted on doors; banks and official buildings are decorated with red New Year pictures depicting images of prosperity.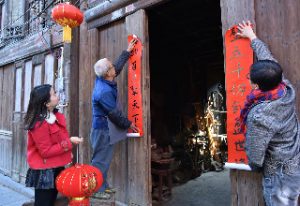 Red couplets are put up for Chinese New Year.
Most public decoration is done a month before, but home decoration is traditionally done on Chinese New Year's Eve.
As 2021 will be a year of the Ox, decorations related to the Ox will be commonly seen. Look out for red Ox toys for children and New Year paintings with Oxen on them.
You can learn more about our International School by clicking here.