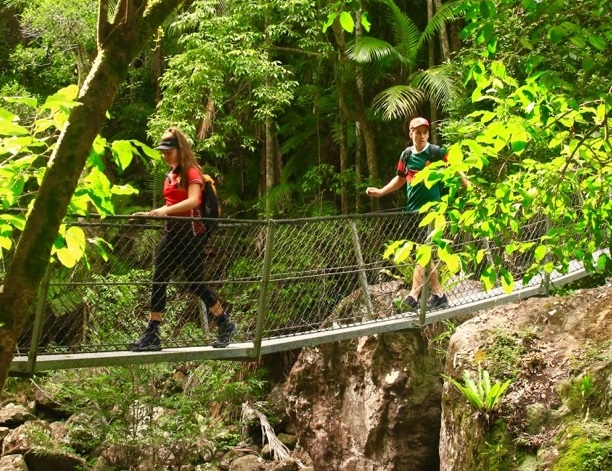 Experiential Learning Update | Kokoda training & tree planting
Over the Easter holidays preparations continued for the Kokoda Experience with the Kokoda 2019 Team completing a 12km hike to Baxter Creek Falls and then onto Mapleton Falls in the Sunshine Coast Hinterland. All up, the trek took around five hours and was the first serious hit out in preparation for September's Adventure on the Kokoda Track.
Fortnightly team hikes will keep the group progressing toward the fitness levels that will be required for hiking in the New Guinea highlands. The actual itinerary of the Kokoda Experience will see the group hiking for eight days with most days averaging between 8-10 hours on the track. The highest point of the trek sits at 2190 metres above sea level, so within those long days there will be plenty of climbing. The rewards will more than make up for the effort, however, with the terrain featuring extraordinarily beautiful landscapes and an abundance of exotic wildlife. There is also the opportunity to visit the historically significant wartime memorials at Manari Village, Eora Creek Village and Isurava, before ending the experience at the famous Kokoda Arch. It will be the experience of their young lives for the seven current students and one past student who are taking on the challenge.
In other Experiential Learning news the second phase of the Koala Corridor was planted out on the final day of Term 1. The Service Learning Koala Corridor team were able to get another 250 saplings in the ground and healthy rains over the break ensured that the young plants got off to a good start. Plants that were put into the ground last November are doing well and have now reached 3-4 feet in height; a credit to our grounds staff who have ensured water and weeding have given the new plants the best chance of healthy growth.
Each term the corridor will grow as working bees are scheduled for the final week of each term.
This should see the entire project completed by the middle of next year.
Cameron Howes
Head of Experiential Learning Development