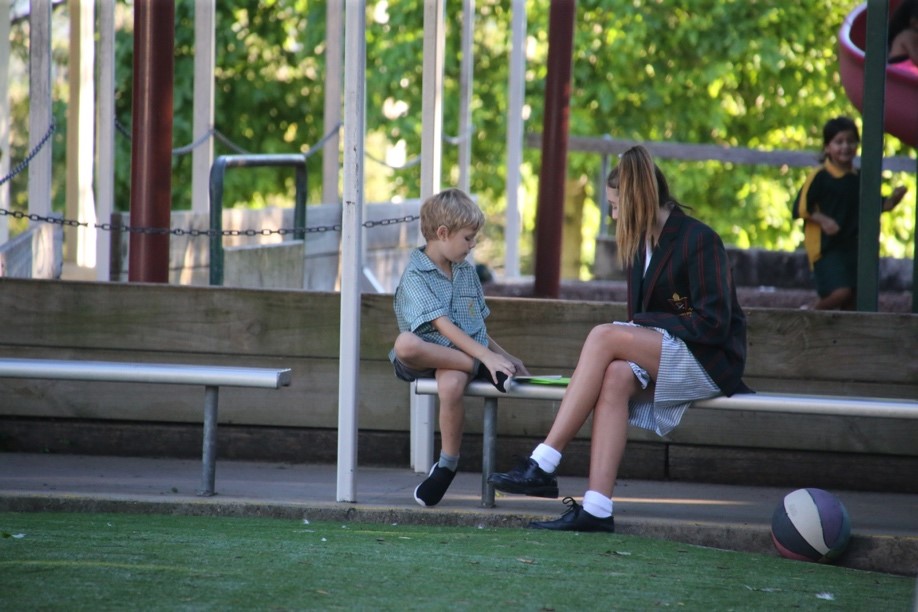 Experiential Learning Update | Eat Up & Turrwal Reading Program
St Paul's has developed a mutually beneficial partnership with neighboring school, Bald Hills State School (BHSS). The partnership has been established through our ongoing support of the Turrwan Reading Program, whereby a group of St Paul's students meet with Indigenous students attending BHSS every Tuesday throughout Term 2 and 3. During the thirty minute session our students mentor the younger students in reading and literacy skills. The program has been running for the past six years and across that time the relationship between our two schools has developed significantly.
This year's program of support started this week and pleasingly, the number of mentors helping at Bald Hills is the largest group we have ever sent over to the school. The reading program is a huge commitment by our students, but at the same time is massively rewarding. For students who have goals of working in education or any aspect of social justice it is an ideal experience. It is especially pleasing to see the number of our students who return to the program year on year. An example of this is Gabby Kennedy, a Year 12 student, who has been involved in the program since she was in Year 7. Her ongoing commitment and willingness to take part each year is testament to the positive rewards the program brings to those who get involved.
The Bald Hills students love working with their older buddies and show off their school and its strong indigenous programs with pride. Bald Hills has recently established a Yarning Circle which is now the centrepiece of their Turrbal Heritage Trail, a pathway which leads visitors about the school and which relates the stories of the traditional owners of the land on which the school sits and provides information about the native flora and fauna found within the local area.
The St Paul's Service Learning team is also continuing to support families experiencing difficulties at Bald Hills State School through the Eat Up Program. This program involves our students preparing lunch packs for students whose families may be struggling to provide lunchtime meals for their children while they are at school. The simple lunches our students prepare provide these kids with a nutritional meal to help get them through the day. Last Monday we had a team of students produce over 50 lunch packs. Eat Up will happen each term and is one simple way of supporting families in our local community who are experiencing hardship.
Both these programs represent how positive relationships between learning communities can be mutually beneficial for the students who become involved. We at St Paul's have much that we can do to help support the students of Bald Hills, while there is a great deal of learning our students take on through their experiences and involvement in both the Eat Up and Turrwan Readers programs.
Cameron Howes
Head of Experiential Learning Development