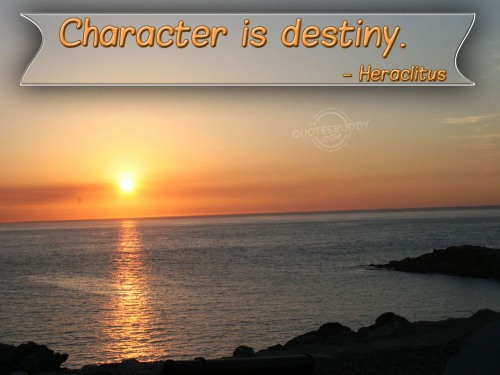 Character is Destiny
The importance of character development as an element of the education of young people has been accepted for many years. The Greek philosopher Heraclitus (535-475 BC) probably started it: he is credited with the quote – "Character is destiny".
U.S. Senator John McCain developed this idea when he said – "It is your character, and your character alone, that will make your life happy or unhappy. That is all that really passes for destiny. And you choose it. No one else can give it to you or deny it to you. No rival can steal it from you. And no friend can give it to you. Others can encourage you to make the right choices or discourage you. But you choose."[1]
What McCain does notmention is the centrality of a relationship with God in our search for character, meaning and a life of flourishing. In the Bible we certainly find lots of wisdom in this area –
"….we know that suffering produces perseverance; perseverance, character; and character, hope. And hope does not put us to shame, because God's love has been poured out into our hearts through the Holy Spirit, who has been given to us." [2]
Yet, personal experience (as well as the Bible) also tells us that each of us is a work in progress. None of us, in this life, are entirely good or entirely bad. St Paul expressed our dilemma – "For I have the desire to do what is good, but I cannot carry it out.  For I do not do the good I want to do, but the evil I do not want to do—this I keep on doing".[3]  Or, as Alexsandr Solzhenitsyn put it – "The battleline between good and evil runs through the heart of every man."[4]
David Brooks develops the concept of humankind's dual nature this way – "Sin… seems to flow from the past through human nature and each individual. At the same time, the longing for holiness, the striving upward, the desire to live a life of goodness and meaning, are also universal."[5] And – "We are fallen but also splendidly endowed. We have a side to our nature that is sinful – selfish, deceiving and self-deceiving – but we have another side to our nature that is in God's image, that seeks transcendence and virtue. The essential drama of life is the drama to construct character".[6]
You, as parents, and we, as educators, play vital roles in this drama, which is being enacted in the life of each child at St Paul's School. And some days, it's quite the drama, isn't it? But, hopefully, as the grown-ups in the relationship, we are equipped to play our part. We have developed our own virtues and we have strength of character. We can be patient in the face of frustration, and forgiving when our children inevitably fail and disappoint us. We can model diligence, integrity, humility and respect. We can show compassion, because we remember what it was like to be a young person struggling to work out who you are.
As the School leadership continues to re-work the Code of Conduct for students at St Paul's, we are doing so in the context of a focus on the priority of character and virtues. When teachers, tutors, House Leaders and I have conversations with students in future about their behaviour, the emphasis will not be on which rules they have broken. Rather, we will address how a particular behaviour (a choice that the child has made) may be at odds with the virtues that we have adopted as a School, and how this reflects on the developing character of the child.
To finish more or less where I began, it was Ralph Waldo Emerson who said – "Sow a thought and you reap an action; sow an act and you reap a habit; sow a habit and you reap a character; sow a character and you reap a destiny." We recognise the significance of each choice and each behaviour in terms of forming character and, ultimately, a destiny.
[1] McCain J & Salter M "Character is Destiny", 2005 – p xi
[2] Romans 5: 3-5
[3] Romans 7: 18-19
[4] Solzhenitsyn A. "The Gulag Archipelago"
[5] Brooks D. "The Road to Character" p 197
[6] Brooks D. "The Road to Character" p 53