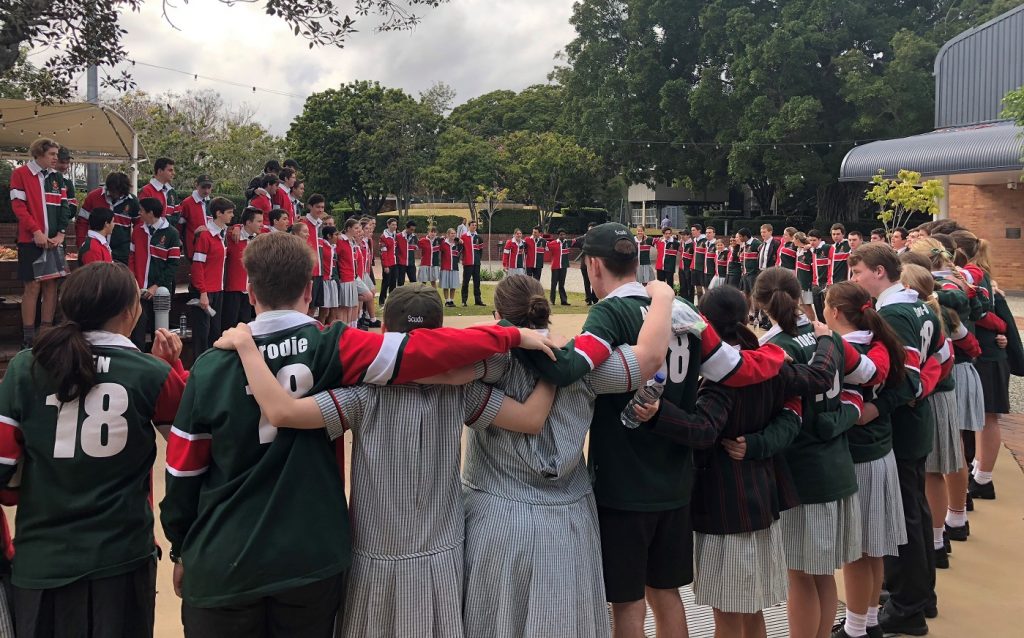 Building community
In my newsletter article last week, I touched on the importance of community and I'd like to develop those thoughts a bit further this week. As John Ortberg has said, in praise of community –
"Our need for community with people and with the God who made us is to the human spirit what food and air and water are to the human body".
As many of you will be aware, the St Paul's Strategic Plan has been built around the investigation of four possible scenarios for the future. In essence, we were trying to address the question: What kind of school will we need to be, to be still providing an 'Education Worth Having', in the year 2028? Our answer to that question suggests that community is going to be an increasingly important part of who we are and what we do, as we move together into an uncertain future –
"The school's community, and education for that matter, isn't just for the students. The school campus is the heart of what is a vibrant, broad and interconnected community built upon positive relationships and cooperative partnerships all designed to support the holistic growth of the young….
Past students form an extensive network and resource for mentoring programs, including through the Centre for Innovators and Entrepreneurs…. Past students are heavily involved in the extensive extra-curricular programs which all students participate in. A culture of philanthropy is clearly evident….
The school campus is alive at night with courses run for the community in a whole range of areas. Each of these courses are taught by students and adults working together" (St Paul's School Futures Planning Project 2015-2028 – Strategic Plan (Phase 3) 2018-2020, p2)
Does that excite you? It certainly excites me. While technology has, on the one hand, promised to make us even more connected, I am observing that increasing numbers of people are feeling socially isolated. What we need, as we have always needed, is to find a place (and a tribe) where we feel that we know and are known.
Within my portfolio of Faith and Community, I have even allowed myself to dream a little. With apologies to Martin Luther King Jnr., I have a dream…
– Of a community in which we learn together, play together, grow food and eat together, make music together, have fun together, serve and worship together
– Of a community in which nobody needs to feel lonely, and where all can find love, acceptance and (if necessary) forgiveness; where sorrows as well as successes are shared
– Of an inclusive community, in which we can all practice becoming global citizens and servant leaders.
– Of St Paul's School resources (physical and human) being used by the community, to build community. That is, we will be wise stewards of our God-given gifts and resources, with a focus on acts of mercy and social justice.
Specifically, I have a dream in which activities and services are delivered beyond the bounds of the "normal" school day (and beyond the scope of existing extra-curricular activities), including –
– Community Clubs & Activities, for example –

   – Community Garden
   – Adventure Club
   – Running Club
   – Community Choir
   – Community Orchestra

– Community use of School Facilities, for example –

   – Golf Driving Range
   – Cross Country and Obstacle courses
   – Outdoor Education and Environmental Studies Centre

– Education Services to the wider community, for example –

   – Adult evening classes
   – Parenting courses

– Church @ St Paul's, for example –

   – Alpha course
   – Quarterly combined Christian Fellowship
   – Easter and Christmas celebrations
Some of these community-building initiatives are already underway; others are in the planning stage. I am very pleased to advise that we will be holding our first St Paul's Carols by Candlelight, on Sunday December 23, from 5.30 pm. I hope that many of you, if you aren't going to be away, will take this opportunity to join with other members of the community in celebrating the birth of Christ and the holiday season.
Mr Nigel Grant
Executive Director of Faith & Community