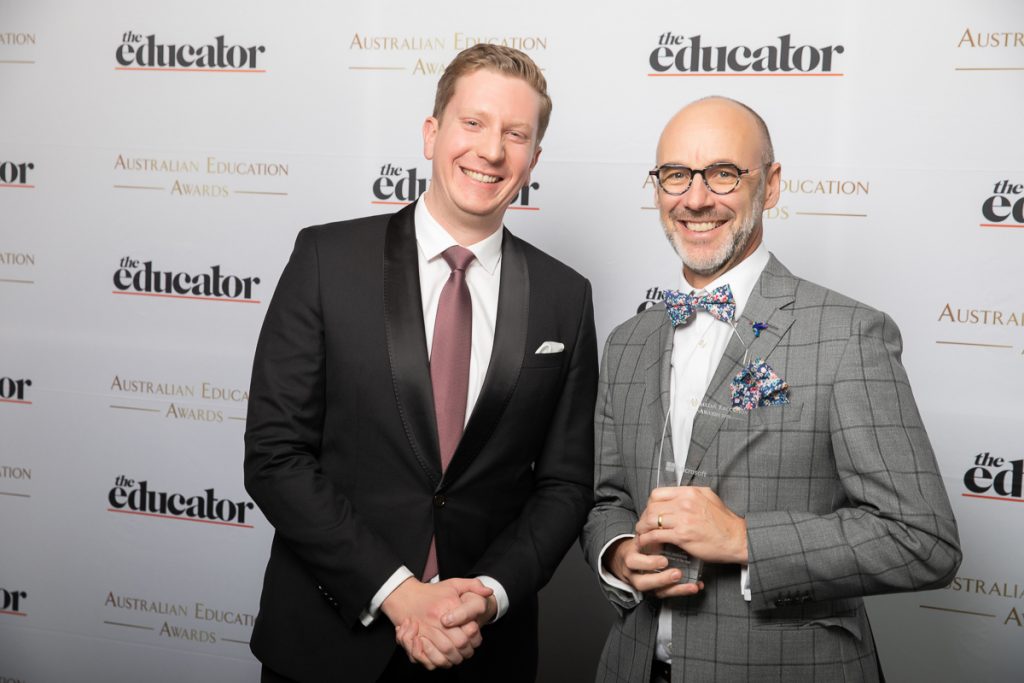 Australian School of the Year
You might have seen that St Paul's School was awarded Australian School of the Year at the national Educator Magazine Awards held in Sydney on Friday 16 August 2019. This was in addition to winning the Australian Junior School of the Year in the non-government schools' section.
We are tremendously proud of this acknowledgement, but what does this mean and why were acknowledged in this way?
The School was awarded Australian School of the Year because we offer a truly holistic education; for our focus on creativity, innovation and entrepreneurship, and our vision of preparing young people for an uncertain future.
The judges (a panel of over 20 experts including world renowned educational leader Pasi Sahlberg) were incredibly impressed with the work St Paul's School has done to support the development of every child's character traits and ability to think creatively.
There are often discussions that many of tomorrow's jobs have not yet been invented. The same can be said for education.  One subject that we have created from scratch was cited by the judges, and is another key element that set our School apart.
I'm talking about Immersion Studies Time (IST), a subject we designed and have been running in the Junior School for a number of years. It has since moved up into Year 8. In addition to our unique way of teaching, Realms of Thinking, which supports the development of 16 dispositions necessary for creativity, innovation and entrepreneurialism, IST provides a dedicated time each week for students to wrestle with big ideas and concepts while coming up with innovative solutions to problems we didn't know existed.
While we are incredibly proud of this acknowledgement, further affirmation for what we are doing to provide an education worth having came from a story told by a Year 10 boy. He was recently one of 600 applicants for a part-time job at Bunnings. Shortlisted to one of 150, he was given a phone interview and then invited as one of 80 to come into the store for an "interview".
He was then asked to work in a team to design a new product for the store. In his own words, "They weren't looking for a new idea, but rather, people who knew how to think and who could collaborate with others." His team of six won the challenge and were all offered the job!
Our approach to education is far more than teaching a young person to read, write, add up and get a great score at the end of Year 12. It is about developing people of character who can think creatively. This is why we were recognised as the Australian School of the Year.
My congratulations to the staff of St Paul's School. They are all amazing people.
---
APPLICATIONS FOR RAY GEISE BURSARY – CURRENT STUDENTS ONLY
Bursary Details:
The Ray Geise Bursary for Service will be offered to one current St Paul's School student, who will be in Year 7, 8, 9, 10 or 11 in 2020.
This Bursary is to the total value of $1,000 (as a reduction in School fees) for 2020 only.
Criteria:
Students should submit a covering letter detailing their performance in pursing the Aims and Goals of the School and must show evidence of consistently caring for others and helping them to live worthwhile and meaningful lives; students must have pride in their School and demonstrate this in their dealings with their peers and indeed the whole School community.
In addition to the covering letter, students should submit a 1000 word essay on "Building a Christian Caring Community in the 21st Century."
In awarding the Ray Geise Bursary, particular attention will be paid to the performance of the applicants in pursuing the Aims and Goals of the School, and to any financial need which exists in the family.
Applications:
All Bursary applications and offers are to be treated as private and confidential and are not for public discussion or announcement.  Applicants should submit:
A Bursary Application Form
A Covering Letter
An Essay
A separate application should be submitted for each child within a family.
Bursary Application Forms are available from the Headmaster's Executive Assistant, Ms Sam Beeney, via email request:  [email protected]
Bursary applications (including the completed Application Form, Covering Letter and Essay) should be submitted in a sealed confidential envelope by Friday 18 October 2019 (the end of the second week of Term 4) to:  Dr Paul Browning, Headmaster, St Paul's School, 34 Strathpine Road, BALD HILLS  QLD  4036.