A Paradox: Creativity and Innovation versus a strict uniform policy
I have always been interested in paradoxes. It's my parents' fault: they were lovers of Gilbert & Sullivan operettas, and some of my early memories are linked to "The Pirates of Penzance". In this nonsensical tale, the young pirate Frederick, who had been apprenticed to a pirate as a baby, was to remain a pirate until his twenty-first birthday, although he loathed piratical ways. Unfortunately for poor Frederick, he was born on the 29th February! It was a paradox, "a most ingenious paradox".
There are many paradoxes – in literature, philosophy, science and religion.
I suggest that many things seem paradoxical to us because of the human desire for absolute certainty. We want things to be black and white, and are uncomfortable with shades of grey. We say it must be EITHER this OR that. The very idea that it could be BOTH AND gives us an unsettled feeling.
A paradox that we are aware of relates to St Paul's School: we claim to be an innovative school, with an emphasis on teaching creativity; yet, on the other hand, we also seek to maintain high standards of a quite strict uniform code. We are sometimes challenged about how these apparently contradictory priorities can co-exist. How can a school be both innovative and traditional? How can students be encouraged to be creative while their creativity in appearance might be stifled by a requirement to be uniform?
Our answer is that, while it might appear paradoxical, we believe that these two priorities are not mutually exclusive. We also believe that the vast majority of current parents and past students expect us to maintain our traditional high standards of personal appearance. We believe that it is possible for students to be BOTH innovative and creative AND to conform to our uniform code while they are at school.
We are going to be having a bit of a uniform 'blitz' in the coming days. Issues that are of special concern in a small number of students are as follows –
Boys' hair, which should not fall over the eyes, ears or collar.
Girls' hair, which should be tied up if longer than the bottom of the collar.
Girls' dresses & skirts, which should be of knee-length.
Boy's short socks (worn under long trousers), which should be plain grey.
Boy's shirts, which should be tucked in at all times.
Jewellery, which for girls is limited to a single pair of studs worn in the ear-lobe.
We would really appreciate it if parents would make sure that their children have all of these aspects of the uniform code correct before they leave home in the morning. Letters will be sent home to the parents of persistent offenders and, if necessary, sanctions will be issued to students who continue to disobey directions.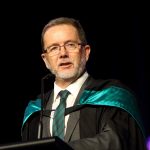 Nigel Grant
Executive Director of Faith & Community