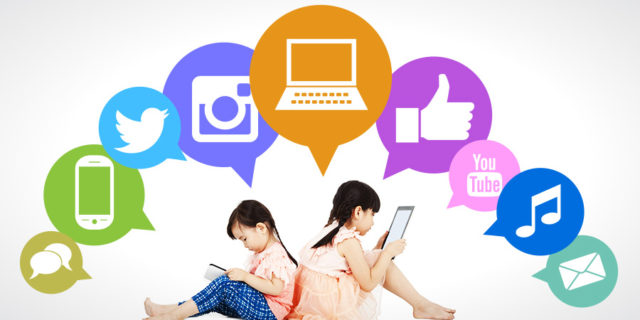 How young is too young?
My eldest grand-daughter turned eight last Friday, and among her birthday presents she received a hand-me-down iPhone. Now, before you condemn her parents, let me reassure you that the phone has no credit, so is essentially a combined camera-music-video and game-playing device. But it did get me thinking: How young is too young, when it comes to introducing children to the internet and social media?
I decided a good place to start in considering this issue would be with young people, so I put the question to my tutor group. This small sample of 12-17 year-olds felt that the "Facebook-rule" of no access to children younger than 13 years was a sensible guideline. They also provided what I thought were some insightful suggestions to parents and their peers, about the use of technology…
Parents –             
Provide your children with a 'dumb' phone before you give them a smart-phone. That is, allow them to develop the skills of sending and receiving calls and messages before you send them out into the 'deep water' of social media.
Education is the key. Talk to your children about the pitfalls.
Limit the apps your children down-load to those that are age-appropriate.
Make your child's access to social media conditional on having you as one of their friends. That way, you can see what they are seeing (and saying) on-line.
Kids –
Be careful of who you accept friend requests from. No 'randoms'.
Don't take social media too seriously. If it's all getting too much, give yourself a break – or delete the app.
Make sure that your parents are also your friends on any social media platforms you have an account with.
As a school, we are trying to help our St Paul's families to navigate the sometimes-treacherous waters of raising children – specifically in matters pertaining to technology. To that end one of our counsellors, Mrs Karen Semple, has organised an event for parents and teens, called "Before you hit Send". To be held at the school on Tuesday 23 May, this evening will see acclaimed author, columnist and speaker Rebecca Sparrow team up with radio and online personalities Lise Carlaw and Sarah Wills of Those Two Girls for a non-judgemental evening of information, practical advice, and stories to demystify and discuss social media for tweens, teens, and their parents.
Topics to be covered in the 60-minute presentation will include:
* Social media – what age and why?
* Naked selfies – minimising risk and how to say no
* Consent – what does it mean and how does it apply?
* Household technology rules – a few ideas to get you started
* SOS – what to do and whom to call when things go wrong.
Lise and Sarah bring to the table their own experiences online, from the perspective of social media users and consumers, and also as parents. Together, they will ask the questions parents want to know, and encourage the audience to pick Bec's brain in a no-holds barred Q&A.  This unique and timely event presents an opportunity for parents to open up the lines of communication with their tweens and/or teens. Tickets are strictly limited so get in quick!!!! Adult $45 School Student $20 (grades 5-12)
https://www.eventbrite.com.au/e/before-you-hit-send-an-online-sos-for-parents-teens-tickets-34059687442
I hope to see you there.
Kind regards,
Nigel Grant
Executive Director of Faith and Community